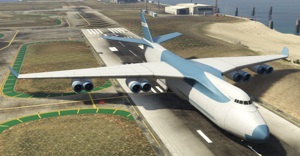 The Cargo Plane is heavily based on the Antonov An-124 with the engines of a Boeing B-52 Stratofortress.
It's a big military cargo plane, which comes with a white body and some light blue stripes around the middle, in the stabilizers, the front end, the winglets, and the fronts of the engines. The vehicle also features interesting landing gear, where the rear wheels are composed of at least 16 pairs (8 in each side), making it realistic, as real cargo planes have numerous wheels.
As the plane has the same colors as the Security Dilettante, it is owned by Merryweather Security, who is the only known operator of the vehicle.
When obtained outside a mission, it is possible to see the interior, aside from the mission Minor Turbulence in singleplayer, where it is composed of a large cargo area, with some utility items, such as lockers, boxes, etc, near the ramp. In the floor, the area is surrounded by green platforms, designed to carry vehicles without sliding and 4 groups of 28 seats, possibly fo the personnel, but is always closed, so these are unusable. The roof is covered with yellow spinning lights and other illumination, which are only activated when a warning is present. Near the utility items, there are two orange loaders, which is used for heavy objects, connected to a roof rails. In the front, an orange ladder is present, along with two rectangles, which are actually the side doors.
Once the player accesses the cab, they find it modeled with two computers, which show military operations (an area surrounded by two jeeps and one truck), and the green part of the map of Los Santos. It is also fitted with some lockers (one labeled "First Aid"), two unusable fire extinguishers and two seats, where the player takes the control of the plane.
Ad blocker interference detected!
Wikia is a free-to-use site that makes money from advertising. We have a modified experience for viewers using ad blockers

Wikia is not accessible if you've made further modifications. Remove the custom ad blocker rule(s) and the page will load as expected.